Eerstkomende activiteit
30 april t/m 27/06 Expositie Galerie Huis ter Heide, Norgervaart 10a
juni en juli
Hengelo, Assen,Wezep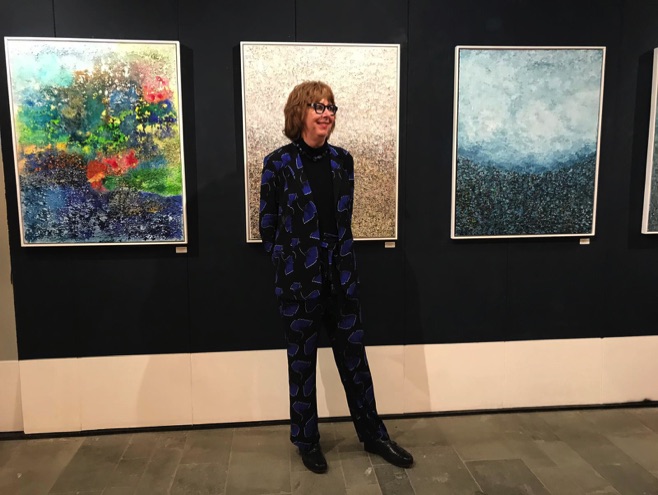 Na het volgen van diverse opleidingen, heb ik een bijzondere techniek ontwikkeld, welke ik toepas in mijn abstracte schilderijen..
In mijn werk streef ik naar een balans tussen fantasie en werkelijkheid.
De natuur speelt bij mij een grote rol, vele facetten boeien mij, de kleuren, het tastbare, ontastbare en de weidsheid geven mij inspiratie.
Spelend met kleuren creëer ik mijn abstracte dynamische schilderijen.
In de loop der jaren heb ik in veel Europesche landen geëxposeerd.
Op mijn website en Facebook vindt u een weerspiegeling van mijn werk terug in een steeds wisselende fotocollage.
After following various courses, I developed a special technique, which I use in my abstract paintingsIn my work I strive for a balance between fantasy and reality.
Nature plays a major role with me, many facets fascinate me, the colours, the tangible, intangible and the vastness give me inspiration.
Playing with colours I create my abstract dynamic paintings.
Over the years I have exhibited in many European countries.
On my website and Facebook you will find a reflection of my work in an ever-changing photo collage.
Nach verschiedenen Kursen, entwickelte ich eine spezielle Technik, die ich in meinen abstrakten Gemälden verwende.
Die Natur spielt in meiner Arbeit eine große Rolle, die vielen Facetten gibt es sehr interessant und während sie mit Farbe spielen so schaffe ich meine dynamische Bilder.
Ich mag die Menschen mit meinen abstrakten Arbeiten in einem kreativen Denkprozess fördern.
Im Laufe der Jahre habe ich in vielen europäischen Ländern ausgestellt.
Auf meiner Website und auf Facebook spiegeln sich meine Arbeiten in einer sich ständig verändernden Fotocollage wider.
lid van Kunstenaarsvereniging Van TyNaarlo (VTNL)